UPCOMING ELECTION: 
November 3, 2020 – State & Federal General
---
---
Voter Registration Deadline: 

October 5
---
---
Absentee By-Mail Request Deadline: 

October 27
***If you requested an absentee by-mail ballot for the August Election, you must complete a NEW request form for the November Election***  
Unless you are placed on permanent absentee, you will need to complete a request form for EACH election you wish to vote absentee in.
Getting a ballot by mail is a two-step process.  You must first complete an Absentee By-Mail Request Form (click link below to download request form or call our office to have one mailed to you) and return the form to our office.  Our Election Officials will then process the request and mail your ballot to you.  When you receive your Absentee By-Mail ballot, you can mail your ballot or hand deliver it inside the JONESBOROUGH POST OFFICE (121 Boone Street, Jonesborough) – inform the clerk it is your ballot and they will deliver it directly to our office.  Your ballot CAN NOT be dropped off at our office – the ballot must be mailed or hand delivered to the Jonesborough Post Office.
***************************************************************************
***************************************************************************
---
---
Early Voting Period: 

October 14 – October 29
Early Voting Hours: 

Monday – Friday, 9:00 AM – 5:00 PM
Saturday, 9:00 AM – 12 NOON
---
---
***************************************************************************
---
45000
Registered Voters (as of March 2020)
0
Last Election Turnout (11.08.2018)
Welcome from the Election Administrator
Here to serve you
Our staff is working to bring Washington County Election Commission into the mobile age starting with our website.  Our commitment is to provide you with access to all the information and forms you need to express your democracy by voting.
Register to Vote Online
Register to Vote, Request a Ballot, or Update My Voter Info all online.
Election Calendar
Using the latest in mobile technology you can now subscribe to our election calendar on your mobile phone or computer. Stay up to date on upcoming elections and important deadlines.
Live Election Results
On election night you can visit our website to access live results as precincts report in.
Online Forms
Register to Vote, Request a Ballot, or Update My Voter Info online.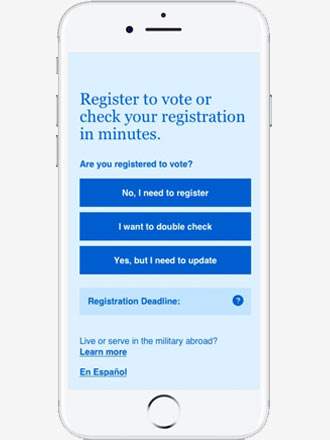 Election News
Stay up to date with important articles and announcements concerning upcoming Washington County elections.
FAQs
Visit our growing Frequently Asked Questions section. Can't find what your looking for? Reach out to us, we are here to serve you.
Online Maps
We now have county, district, and precinct maps online.
2020 Early Voting Locations
We strive to make voting as accessible as possible. During the elections we provide multiple locations to early vote.
Jonesborough Early Voting Site
(Old Ace Hardware Building)
Location:  220 N 2nd Ave, Jonesborough, TN 37659
Johnson City Site – Princeton Art Center
Address: 2516 E. Oakland Ave. Johnson City, 37601
Gray Site – Gray Fire Station
Address: 106 Gray Commons Cir, Gray, TN 37615
Election News
Stay current with important articles, notices, and postings concerning the Washington County elections from the staff of Washington County Election Commission.
Election Commission
Our commission is comprised of appointed members.
Janet W. McKee, Chairwoman
Margaret Davis, Secretary
Patti Jarrett, Member
Charles B. Kinch, Jr., Member
Jon Ruetz, Member
Election Commission Staff
Maybell Stewart, Administrator
Wilma Nolen, Chief Deputy
Sheila Hayes, Deputy
Leslie Lacy, Deputy
Veronica Nuckols, Deputy
Kristi Vines, Deputy
We are Transparent
We strive to provide information in the most accurate and transparent way. Our office is open to stop by with any questions you may have.